Old postcards take me back to childhood days of vacationing at the Gulf beaches and spending a lot of time in the tourist traps, where the racks of postcards were lined up . . . an art gallery of sorts that would fascinate me and draw me like a magnet. My mom is a shopaholic and loves to linger in any type of store, and I loved it when she took us to the tourist traps so I could check out the colorful treasures on those spinner racks.
The vintage postcards on this post are from back in the 1910 - 1920 era . . . The Tampa Bay Hotel, a U.S. National Historic Landmark

.

Among its many distinguished visitors . . . Colonel Teddy Roosevelt and his Rough Riders . . . the hotel was used as a base of operations when the Spanish-American War broke out.
I'll be writing a post about this gorgeous landmark that is just as beautiful as I imagine it was back in the day. It is now the home of the University of Tampa and the Henry Plant Museum . . . with beautiful grounds what wind along the Hillsborough River. It will be posted on my other blog My Florida Paradise.
This post is being linked to one of the most
awesome blog discoveries I have
made in quite some time . . .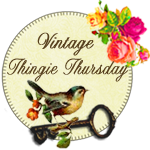 It is a blog hop/meme of people who love vintage stuff . . . seems like I have been lost in Colorado Lady's blog forever . . . back and forth to the participants in her weekly event and checking out everyone's vintage thingie posts. I hope to make a weekly visit to the Vintage Thingie Thursday a regular feature of this blog!
Even if you don't have a blog post to link, it is so cool to check out everyone else's posts and discover some new blogs. I've recently found some that are dedicated to collecting vintage kitchen stuff . . . that post is coming soon . . . I'll share links for those of you who also love that kind of vintage stuff :)